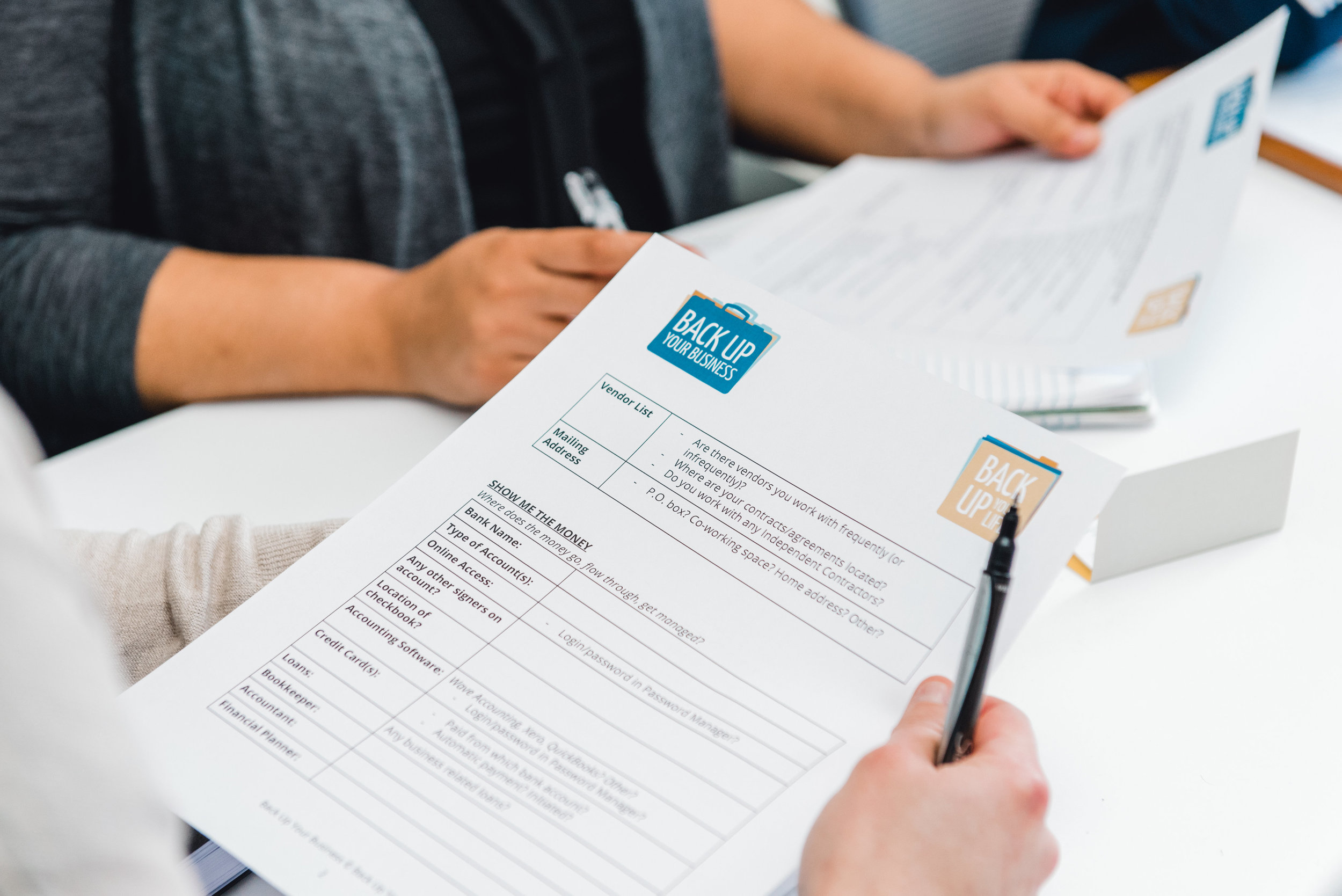 Let's Back Up Your Business® Together!
The Back Up Your Business Blueprint® is the EASY, DO-IT-YOURSELF way to get your business organized, increase efficiency, and set your company up for success.
Purchase our Back Up Your Business® Blueprint to help you back up your business.
As a solopreneur or small business owner, do you:
keep most of your business info in your head

know you should have your information documented, stored, and shared

... but you don't know where to start?
Well that's where the Back Up Your Business® Blueprint comes in!
with our blueprint, we will help you:
DOCUMENT + ORGANIZE THE MOST CRITICAL ASPECTS OF YOUR BUSINESS: You'll complete the program having completed documenting and organizing the most critical aspects of your business in your exclusive Back Up Your Business® Blueprint - ready to share with every important staff member, contractor, and/or key friends + family.


DISCOVER WHAT YOU CAN DELEGATE AND OUTSOURCE: Learn what areas you might be able to delegate or outsource, and what you'll have to do yourself. Also uncover whether there are gaps in your business model or plan (for example, do you have the right permits? Have you gotten business liability insurance?)


HELP GIVE YOU PEACE OF MIND + PREPAREDNESS WITH OUR EXCLUSIVE BACK-UP BLUEPRINT: As part of the program, you'll create your own customized Back Up Your Business® Blueprint, an exclusive, comprehensive resource designed to help you document, store, share every key aspect of your business - leaving you empowered to weather any illness, injury, change, or unexpected event your company might face in the future.
Created by back up expert and professional organizer, Annette Adamska.
Blueprint options start at $97
Complete the Blueprint at your own pace! Blueprint options are:
The Road map ($97) - $300 value
The eBook Back Up Your Business®: Is it Ready for Anything? that outlines the why of the work.

Your own, customizable copy of the Back Up Your Business® Blueprint.

A Master Folder already organized for you that houses your Blueprint AND empty folders that correspond to each section, for one-stop-documenting ease.
the virtual tour ($125) - $450 value
Everything above, PLUS

Access to eight short video modules to help guide you through the Blueprint
The guided tour ($275) - $750 value
Everything above, PLUS

A Strategy Session (55 minutes) with Back Up Your Business® Founder Annette Adamska, where you can ask anything about your Blueprint, your current systems, and how to best set yourself up for success.
Are you ready to Back Up Your Business?®
all blueprint options come with THESE Bonuses!
A Blueprint "Action Plan" Template, to get all your "To Dos" in one place.

Access to 5 unique PDFs, outlining "Special Considerations" for the following fields:

Creative Service Professional

Professional Services

Licensed Professional Services

Brick + Mortar Location

Entrepreneur with multiple businesses

A Guide to Our Favorite Business Resources at Back Up Your Life™!
Frequently Asked Questions
What will I need to start? Yourself, your computer, and an internet connection to download your Blueprint!
How long will this take? Every business is different, and will have differing needs, especially if you have systems and processes that you need to document.
Can someone from my team do this for my business? Absolutely! If you have a large business, or work with a team, and have the capacity to delegate this task, by all means, please do! It's important that the work gets done, and by whom...it doesn't actually matter, as long as they can get the information needed. Your Team Member will likely need to "pick your brain" and there will be information that only you will have; make sure to schedule check-ins with the Team Member working on this task so they can get the information they need for you.
What's the next step? Purchase your access to the Blueprint Version that works best for you! If you have any questions you'd like to discuss prior to your purchase, please select a time for us to connect here.
ARE YOU READY TO GET READY?
Awesome, let's back it up!